NUWAVE RESEARCH INC. ANNOUNCES PARTNERSHIP WITH THE UNIVERSITY OF BRITISH COLUMBIA, FACULTY OF LAND AND FOOD SYSTEMS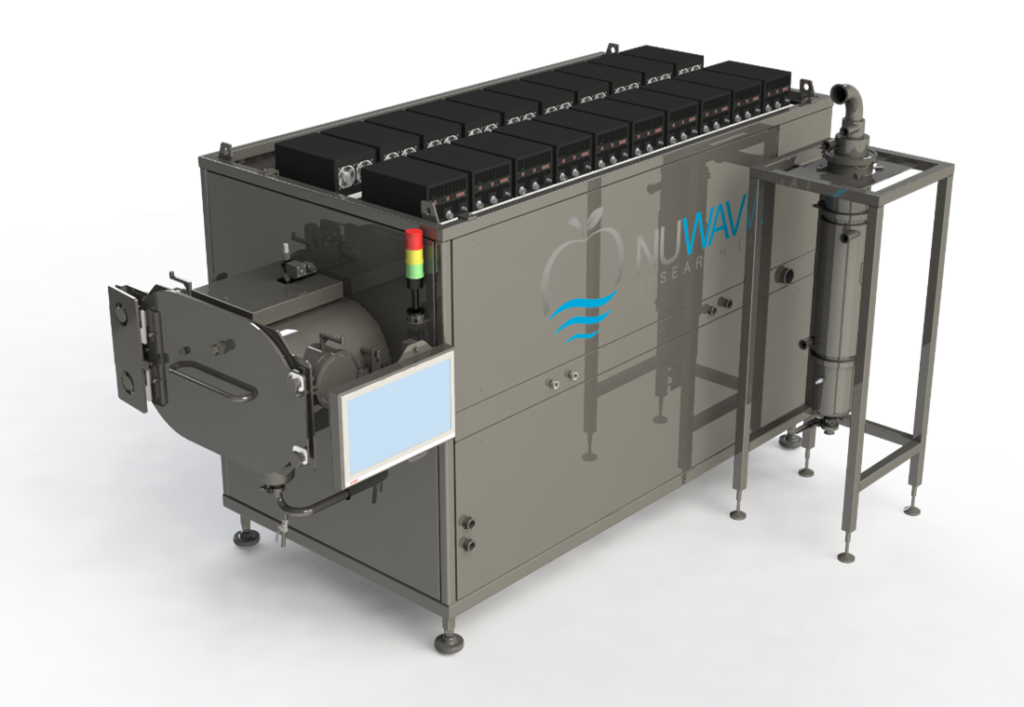 Vancouver, BC, July 4, 2023 – NuWave Research Inc. (NuWave) is pleased to announce it will be the vendor supplier for a Rapid Low Temperature Dehydration System (Microwave-Vacuum Dryer) for the new B.C. Food and Beverage Innovation Centre at the University of British Columbia (UBC). This collaboration will advance research and innovation in the field of food science and technology in British Columbia and globally.
NuWave's Chimera system is primarily intended for applications in research and development, product testing and trials. The Chimera is a batch processing 25kW microwave vacuum dehydrator (VMD) and forms part of a modular, scalable family of products. NuWave's proprietary technology dries faster, and more consistently than any other machines on the market using a proven core technology that is fully customizable.
UBC's Faculty of Land and Food Systems expects construction of the B.C. Food and Beverage Innovation Centre, to be completed by early 2024, and it will be a hub for research studies involving Food Science, Food Engineering, Biopackaging, Material Science, and Biological Engineering. NuWave's Chimera is being procured to enable world-class, innovative and transformative research in drying technologies.
Food is a fundamental need in every human life. With a rise in the population and a depletion of natural resources worldwide the importance of creating and innovating food as a resource is important. Moreover, drying food is essential for two aspects: transportation and shelf life. Dried food can occupy over 70% less space than fresh food, highly reducing the transportation costs. Additionally, dried food has far more longevity when moisture is reduced to shelf stable conditions than fresh food. Meat (beef, salmon, or turkey jerky), alternative proteins (pea protein or insects) vegetables, (beet chips, kale chips, or sun-dried tomatoes) and fruit (banana chips, apple chips, or fruit leather) are just a few examples of the current food applications that can be dried in NuWave's scalable systems.
"NuWave is thrilled to be selected as the cutting-edge dehydration solution provider for the UBC Faculty of Land and Food Systems. The University of British Columbia is known globally to have a focus on top level talent, and we are excited to be recognized. We are proud to work alongside UBC to empower small businesses to innovate and strengthen Canada's agriculture infrastructure," said Greg Stromotich, CEO of NuWave Research Inc.
Dr. Pratap-Singh, Director of the B.C. Food and Beverage Innovation Centre, said installing leading-edge technology is an important part of his Centre's strategy.
"We want to give B.C. companies an edge when taking an idea from concept to successful commercialization," said Dr. Pratap-Singh. "We selected NuWave's microwave vacuum dehydrator to give entrepreneurs access to the latest technology that can help them develop innovative food products for the market, as well as products that improve food security."
For more information, contact:
Greg Stromotich – Founder & CEO
NuWave Research Inc.
info@nuwaveresearch.com
(604) 421-9283
Prof. Anubhav Pratap-Singh, PhD, Associate Professor, Director, B.C. Food and Beverage Innovation Centre
lfs.web@ubc.ca
(604) 822 1219
About NuWave:
NuWave Research, Inc. is an innovative technology company that manufactures industrial microwave equipment. NuWave's patented Vacuum Microwave Dehydration (VMD) technology enables rapid precision low temperature drying solutions that bypass the conventional quality speed trade-off of traditional methods. NuWave's technology provides food processing and manufacturing companies new ways to help address the world's food challenges. NuWave technology also has non-food industrial applications where high throughput low energy cost solutions are required. For more information please visit nuwaveresearch.com.
About the B.C. Food and Beverage Innovation Centre:
The B.C. Food and Beverage Innovation Centre, housed in UBC's Faculty of Land and Food Systems, will support entrepreneurs and food processors through services that range from collaborations with some of the world's top scientists in food engineering and processing, to accessing novel, cutting-edge equipment. It is slated to open in early 2024 and will focus on innovation in the processing, packaging, and marketing of B.C. food and beverages. The mission of the Faculty of Land and Food Systems is to develop change makers and leaders who improve global health through science, innovation, and positive actions. Visit fbic.landfood.ubc.ca for more information.