NUWAVE RESEARCH INC. DELIVERS 100KW INDUSTRIAL MICROWAVE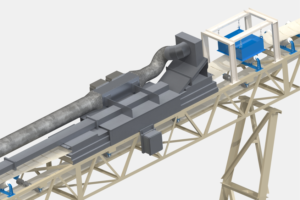 Vancouver, BC, July 14, 2023 – NuWave Research Inc. (NuWave) is pleased to announce the installation of a high power industrial microwave solution with a multinational tier 1 industrial company as part of their waste recycling pilot plant.
This system is the 3rd 100kW pilot system shipped by NuWave in 2023, marking a significant ramping in manufacturing and delivery of large-capacity microwave systems. NuWave supplies microwave solutions at both the 2.45 GHz and 915 MHz frequencies. This scalable energy architecture platform allows for robust industrial solutions. NuWave will deliver 200kW vacuum microwave systems in the near term.
This installation denotes a new series of products in NuWave's commercial offerings, highlighting their innovation and engineering capabilities. This NuWave exclusive technology system is fully integrated into the customer's production line, with a non-vacuum belt-driven microwave chamber increasing the energy efficiency in material drying – key to the customer's application. From the design concept to the completion of manufacturing, the whole process took under six months, demonstrating NuWave's efficiency and customer-centric business model.
The application for this system is meant for recycling common industrial building materials, which at present are routinely disposed of without any decarbonization. NuWave is presently working across several industrial verticals in similar decarbonization and recycling applications and is excited to see its technology deliver solutions both for customers and the environment.
"The installation of this system marks a fundamental advancement in NuWave's business. It demonstrates our capabilities as a microwave solution provider in broad industrial segments as well as establishes several industry firsts in terms of technology innovation and scale. The success of this project recognizes NuWave as a viable technology partner for large companies solving difficult challenges where existing solutions or technologies are not viable or efficient." said Greg Stromotich, CEO of NuWave Research Inc.
For more information, contact:
Greg Stromotich – Founder & CEO
NuWave Research Inc.
info@nuwaveresearch.com
(604) 421-9283
About NuWave:
NuWave Research, Inc. is an innovative technology manufacturer, globally recognized, with exclusive technologies for industrial microwave solutions. Serving the food and organics industry, NuWave's technology provides novel methodologies to address the world's food challenges. NuWave's patented Vacuum Microwave Dehydration (VMD) technology enables rapid precision low temperature drying solutions that bypass the conventional quality speed trade-off of traditional methods. NuWave technology also has almost limitless potential industrial applications where high throughput and low energy cost solutions are required. For more information, please visit nuwaveresearch.com.